I love the stories about the founding fathers (and mothers!), their courage, sacrifice, wisdom and all that they did for me and others who live in the United States. I want to keep their memory alive, and teach my kids why they designed the Constitution the way that they did. That's why I want to share this little gem of a book with you today. But first, a story: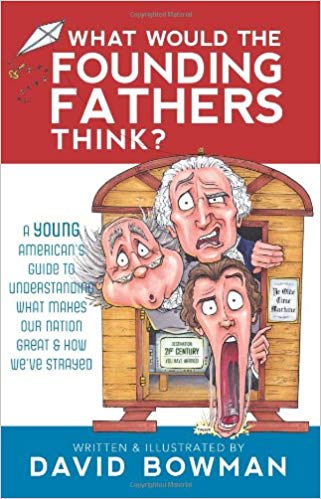 I live in a great small town. And as with most small towns, it has little secrets that you don't instantly find out about.
That is what happened one day to me. I love to take my kids on field trips and I had noticed a little art gallery on Main Street. I called up the owner and asked if he would mind giving us a tour and talking to the kids about art. He was very gracious and agreed.
As we went in, I was blown away. It was a gallery that focused on different aspects of Jesus Christ's life and the art was inspiring and beautiful. Then I saw a shelf of children's books–and you know me, I was drawn in even more.
As we spoke with the artist and gallery owner, David Bowman, I was grateful for his experience in working with youth and teaching them. He was fun and engaging and had the kids all giggling. As we got ready to leave, I decided to buy one of his books What Would The Founding Fathers Think as a "thank you" gesture. And boy am I glad I did! (I ended up buying all of his books eventually.) Quality learning and fun are on every page.
Why I love this book
How do you explain the founding of the United States in an easy-to-understand way for kids?
Have you ever wondered what the difference is between how the United States government was designed to work and how it currently works today?
Are you maybe a little discouraged and want to help get things back on track?
What caused the change, anyway?
What Would the Founding Fathers Think by author and artist David Bowman is a really fun book that explains the founding of the United States in a clear, engaging way for kids. Littered with caricatures, puns, pop culture references and more, this book is an entertaining read that is SOLID at the same time. Here's just a little taste of what is inside:
I really, really love this book because it is interesting enough that my kids will pick it up on their own, but just as important, it is rich with deep principles such as how personal responsibility affects the nation, how strong families and traditional values strengthen the country and much more, that makes for really rich family discussions. Go get it–your kids will love it!
You can find this book at Amazon or www.davidbowmanart.com. Our readers who are Christian will also appreciate David Bowman's portrait series of Christ, which you can see on his website as well.
How does your family participate in government matters?
Give us some ideas on how to involve the whole family in the comments!
Family DIscussion Guide
Do you agree or disagree with the author's explanation of founder's intentions for America?
What are primary sources and why are they important?
What primary resources did the author use to support his claims? If you disagree with the author, what primary sources do you have to support your claims?
How can we respectfully disagree in political conversations? Can we learn from those we disagree with?
Would you rather be taken care of, or have freedom and the responsibility that goes with it?
What other types of government were discussed in the book? Learn about countries that use these types of government. 
What can you personally do to contribute to the success of our country?