This post has affiliate links in it for your convenience. I may earn a small commission at no cost to you when you use one of these links. When you use these links, it helps support the mission of Raise The Good. Thank you! For more information, click here.
The Idea
My husband and I are constantly looking at resources for raising children. Of particular concern to us is enjoying our (soon-to-be) teenagers as we help them develop into independent, happy adults. No celebrity-like teenagers for us, thank you very much!
We came across the intriguing idea of coming-of-age rituals. Historically known as a tradition associated with Native American and African tribes, these rituals often contain physical and spiritual elements. When a child successfully completes these trials, he or she is officially considered an adult, with attendant responsibilities and privileges. These rituals have been all but lost in our culture today, though they were once regarded as a crucial step in many civilizations.
My husband and I decided this was something we wanted to implement in our family. We have enjoyed a few resources in particular that have helped us do this. Wild Things: The Art of Nurturing Boys, Raising Real Men, (both the book and the blog) and the blog The Art of Manliness also has many articles explaining how important these rituals are.
As Stephen James and David Thomas of Wild Things put it:
In our postmodern culture of rapid change and global transformation, boys are wrestling with questions of identity, morality and belonging . . . If we don't create rites of passage for our boys, they will find their own. If we don't mark their passage into the fellowship of men, they will create experiences that make them feel like the men they long to become.


A rite of passage for a boy can be anything from smoking pot to sleeping with a girl to driving drunk or breaking the law in some way. The rise of inner city gangs in our culture is a direct result of the absence of fathers and the resulting failure to properly initiate boys into men. Gangs have all the central components of initiation . . .


For many boys, life will eventually initiate them, but it is often too late or too imperceptible to have any real meaning. When boys are initiated by happenstance, they rarely comprehend the sacred significance of the moment, and thus it has little impact. Without initiation, boys become disillusioned, dissatisfied, and disenchanted. They have nothing greater than themselves to be a part of–they lack a moral and spiritual identity–and they have no greater story to guide them (pg. 276-277).
Though these books speak specifically of boys, my husband and I agreed that our daughter Katie, who is our oldest, needed this as well. In this world of increasing sexualization of women, young girls often believe the message that their worth lies only in their ability to be sexy. We want our daughter to know that she is a strong, capable person, and to have a guide throughout these potentially turbulent years.
What we Planned
We decided to have a coming of age celebration for all our children—an event that does not celebrate arriving at adulthood, but the coming changes and transformation; the beginning of growing into adulthood. My husband and I chose the age 12 to do this celebration. Our church has a transition for children then, and we also wanted to do the celebration before our daughter's body started changing a lot.
We began by asking the women in our family to write a letter to Katie. What they wrote was up to them, but we listed some suggestions: What does it mean to be a woman? What do you like about being a woman? What do you wish you would have known during your teenage years—about boys, about your body, etc.? What advice do you have?
The result was tremendous. Most of Katie's grandmothers and aunts were hesitant and unsure about what to write. This was a very vulnerable and sensitive thing to ask of them, but they are marvelous women with a lot of wisdom and insight. The letters were more than we had hoped for. We also asked her grandfathers to write a letter about what they appreciate and love about women. Lastly, my husband and I also wrote a letter.
In addition, we collected stories about strong women in our family, female historical figures, and women in our community we admired. I put all of these in a cute binder with three sections: letters, stories, and inspirational quotes.
How it went
On the day of the celebration, we invited the female family members who lived nearby to come to a special lunch, which Katie planned. After we ate, I read the letters of those who could not be there. Then I passed around the binder and those who were there read or talked about their own letter. We laughed, and we cried.
At the end of our luncheon, I presented Katie with a special necklace. It was a medallion with a scripture engraved on it to guide her in the future. It also had a small tree to represent her growth and her personal family tree, with a reminder of the strong women behind her.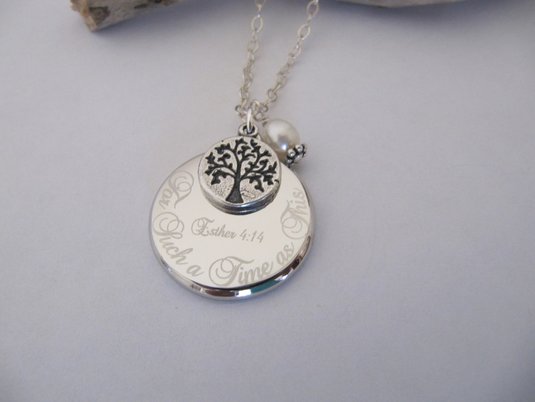 When I asked my daughter afterward what she thought about the whole thing, she remarked, "The biggest message I got was to not back down from my beliefs when peer pressure comes. I also learned that it is ok to just be me. I don't have to be like everyone else. It was a really good experience."
We loved this experience so much, we've done it twice more, with our boys! You can learn more about them here and here.
When we encourage our growing children to become adults in an age-appropriate manner, we raise a generation of empowered, independent, capable, and confident young adults. They will not look to misguided peers or media for cues on how to behave, but to the trusted men and women who have carefully mentored them. Thanks to them, the future looks bright!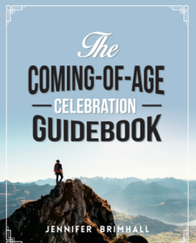 **If you'd like a step-by-step guide to help you create an amazing, personalized experience like this for YOUR child, check out
The Coming of Age Celebration Guidebook
. The feedback I've gotten from it has been amazing:
"This was the best day of my life…The collective beauty and wisdom was just so overwhelming. Our young people are worth so much and I just hope they know it. Thanks to everyone who helped, who wrote letters, who came, and those who couldn't make it, you were missed. Thanks so much for the priceless idea, you've made a difference!"   -Emilie N.
"Jen…this is amazing. Just got the Coming of Age book- this is really fantastic. Side note- you should be charging WAY more for this…so so so impressed. Seriously so grateful for this."  -Danielle T.
When did you first realize you were an adult?