Have you ever thought, "It's all well and good to have awesome books and movies to use with your kids- but HOW and WHEN do busy families use them? Everyone has crazy schedules and who has kids that want to read/watch "character building" books and movies anyway? Plus, there are so many other things we want to do together."
I TOTALLY get you. With three teens and two tweens, my family is in the thick of busy schedules right now (and sometimes bad attitudes). Time together is scarce. That is why I want to use our time very, very carefully. Here are some ways we try to protect our time together and instill a love of goodness, sometimes through deliberate media consumption:
The point of all of this is not about watching movies or reading books. This is about teaching our children to love goodness and education. It is about "educating their desires" in an enjoyable way.
1. Daily Time
Every night at 8pm, we take time to reconnect, read scripture together, and talk about plans for the next day to make sure we are all on the same page. This doesn't always happen, but we try. For some families, mornings work better for them. Sometimes there are schedule conflicts, but we try really hard to have everyone there. This only takes about 30 minutes (sometimes less). On days we have more time, I try to do Children's Hour – it's my favorite and it's a good time to fit in great resources!
2. Sundays
For us, Sundays are for worshipping and spending time with each other. This means we attend church services and then it is a family day. No friends, no outside activities. This gives us time to talk as a family about issues that might have popped up, read a good book together, or go for walks. Our extended family lives nearby and we spend time with them. We try really hard not to use screens on Sundays, but on days when we all just need to veg, that is when I pop in a really inspiring, thought-provoking or faith promoting movies like Amazing Grace, The Scarlet and The Black, Forever Strong, War Room, or something similar. We also end up playing lots of board games and card games.
3. Family Night
One night a week, in addition to Sundays, we try to have Family Night. For us, this is usually Monday night. We have a lesson/discussion about something we think our family needs to work on, character traits, a religious topic, or current events. (Check out "Character Traits" in the menu for ideas!) The lesson is usually 10-30 minutes long, and then we play games and eat a treat. We are done after an hour and then it is time for bed for the littles. This takes the place of our regular daily time on this day.
4. Weekends
Weekends are pretty open, but we try to sneak in a movie night with everyone once a week, in addition to a hike, bike ride or something else fun. Sometimes we watch a popular show, sometimes we watch something fun on Youtube, and sometimes I sneak in really great stuff like 42, Les Miserables (a family-friendly version), or Hidden Figures.
5. Car Trips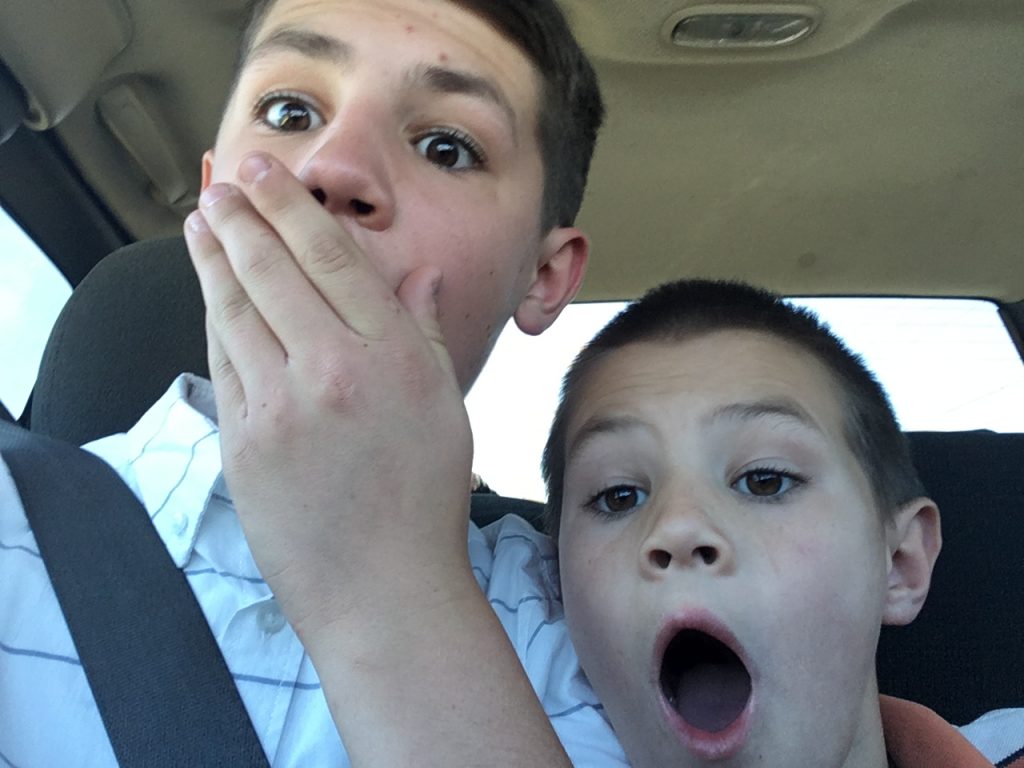 You have a captive audience here. Use it! Get a family read aloud, whether it's on Audible or you or someone else in the car reads. We have been through a ton of great books this way, and it makes long road trips (or even short ones) more bearable. It is a great alternative to screens and the discussions you have can be really rich.
6. Meal Times
Ditto on the captive audience. We do everything we can to eat together. With my 17 yr old's schedule, it doesn't always happen, but we really try. Sometimes I will prioritize reading aloud, or sharing a quick inspirational video clip and discussing it, over eating my own hot food. Not always, but sometimes. And it's totally ok. Our time together is short, and I want to make it count.
7. School Time
More than ever, parents are becoming more directly involved with their children's school work, thanks to COVID-19. Use this to your advantage and incorporate school into movie nights. Are they learning about the Civil War? Get them excited to watch Gettysburg(I love this one!). Do they have to read a classic book? Find a movie adaptation and watch it with them after they finish reading as a reward and to reinforce what they have learned.
8. Strew
"Strewing" means to leave things in noticeable places in your house. You can strew great books you want your kids to check out any place you think they will notice them: the coffee table, their bedroom, the kitchen counter- even the bathroom!
Tips:
You get to set the tone
Your kids will follow your lead. If, for example, I have a billion loads of laundry to fold (true story!), and I want to watch a show in the living room while I fold it, I will try to put on something inspiring or educational. Without fail, my kids will join me-and I get help folding laundry at the same time. Other times, I'll listen to an audio book and my kids will see that example, too. If I read at night, they will read at night. If I'm really tired on a Sunday and I decide to put on a more "church-y" movie, they will come. Our kids want to be with us, and they will copy what we do, both the good and the not-so-good.
Don't make it too long or forced
Keep things short and sweet. Use enthusiasm and not force as you introduce new and inspiring media. Let them keep some of their "fluffy" entertainment.
Make it Fun
In our efforts to raise children who will be a powerful force for good in the world, make it fun! Otherwise, meaningful things will become drudgery, and our kids will avoid them. That's why I think carefully chosen movies, Youtube and books are such great tools- they can teach our kids without us lecturing them. And that my friends, is priceless.
Do you have any tips and tricks? Please share!