Whew! It's over. Our homeschool inaugural robotics season has come to a close. We held our ending celebration last night and took inventory of the year. And we decided it was good. Really good. We used VEX robotics and if you are thinking of starting a robotics group for kids, this is my review.
Our group is going to make some changes, but we started with two clueless moms, one experienced college student and 10 kids– and finished with placing in the state competition with our middle school team. We barely lost the regional championship with our high school team, so we are pretty pleased. The kids have learned engineering, programming, teamwork, sportsmanship and much, much more.
Oh, and did I mention that kids who participate in VEX robotics are eligible for 4.5 million dollars in scholarships? Many people are worried about the future job market, and rightly so. Jobs are disappearing, being outsourced or mechanized. A lot of people complain about it, but I think it's better to look ahead of the curve and be prepared. My friend Heather opened up a wonderful door for my family to help us do that.
Our Robotics Backstory
Heather is Homeschool Mom Extraordinaire. I would tell you about how A.MA.ZING she is and post her picture, but she would be embarrassed and then get mad at me.
So.
Heather decided she wanted to start a homeschool robotics team. Because we homeschool (at least in our area), we are not able to join a public school team. Heather's son is extremely interested in engineering, so she thought a robotics team would be a great way to help him and other kids in the area as well. I volunteered to help her get it off the ground.
I'm not going to lie. It is a BIG learning curve if you are not naturally inclined or interested in this field. It takes a lot of time- the season is pretty much the entire school year. But the kids loved it. They learned a lot and had a lot of fun. They got distracted a lot. Some of them didn't follow through and some of them kept breaking things. But in the end, it was great.
Here is the breakdown of what we learned if you are interested in starting your own team. This will be a long post, but you'll have the basics down by the end.
There are pretty much just two companies who do school age robotics: VEX and FIRST. We did VEX this year, but are going to switch to FIRST next year, for reasons I will describe later.
Here's the low down on VEX robotics
VEX Robotics is the company that our area uses the most, so naturally, we decided to go with VEX this year. You can learn more at www.vexrobotics.com/. There are two robots for VEX depending on the age you are working with.
Overview
Each year, there is a different challenge or task that the team designs the robot for. The group designs the robot to perform specific tasks that earn points in the challenge. The kids program the robot to score points on it's own (that is called the autonomous program) and they also earn points in a driver-controlled competition. There are also other ways to advance your team and gain recognition if engineering and programming aren't your thing:
Engineering Notebook: this is a record of how and why you built the robot the way you did.
Research Project: kids research a topic of their choice and put together a visual presentation for the judges.
Other competitions: website building, photo, and writing competitions plus many more!
Vex for Younger Kids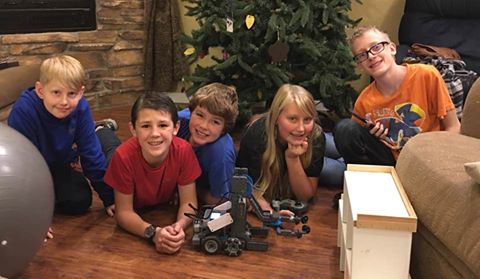 The IQ robot is for elementary and middle schoolers. It is made up of plastic pieces that snap together and has a programmable robot brain and a controller. My son Gideon LOVED that he could drive it using a controller similar to an X-box controller.
Vex for High School Kids
    The EDR robot is for high schoolers. Made of metal parts, it has servos, a winch system, and other fun add-ons. It is definitely a more advanced robot. It was a big challenge, but the kids pulled through. This robot is also programmable and has an autonomous competition and a driver-controlled competition as well.
VEX has competitions from regionals all the way to world. You buy the robot kit, register your team and you are good to go.
Pros of Vex Robotics:
It's cheaper than FIRST.
Gives grants to schools, so that most schools can get a free robot.
Has a web page that gives information on $4.5 million dollars in scholarship money.
Has a curriculum to help you teach the kids.
Young kids can build, drive and have fun.
Cons of Vex Robotics
Homeschool and community groups do not have access to grants.
The parts did not seem well made and were sometimes glitchy.
Can only use VEX parts (they are expensive and it feels very self-serving.)
It was hard to find information on their website.
Programmers use Robot C, instead of a more universal language.
Not very many teams advanced to the next level.
If you won an award, many times it would not advance you–but other times it would. It is all dependent on how many teams are participating. As you can imagine, it was very disappointing for our high school team to not advance after winning the same award TWICE that the middle school group won and DID go to state for.
What we learned
We needed to fundraise more money than we thought we would.
Buy a playing field. Just do it. After we went to regionals, we saw how crucial a practice field was. Just spend the money and do it. Our points increased 400% on the middle school team after we purchased one and practiced on it.
Get other parents involved from the beginning. Our parents wanted to help, we just weren't sure how to use them. At the end of the season, Heather and I were completely burned out and exhausted.
Have the kids put their devices and cell phones away during practice. Enough said.
We are going to try FIRST next year. Our friends who do FIRST honestly don't have a bad thing to say about it, whereas we were often frustrated with VEX.  That said, we still had a terrific year and would do it again in a heart beat. I will write my own review at the end of next year, but you can learn more at www.firstinspires.org.
So there you have it- robotics in a nutshell. We love it. It is hard and frustrating sometimes, but we are so glad we have had this experience. Even if you do not have children who naturally gravitate to this field, I still think it has something for everyone and it is worth doing.