This post has affiliate links in it for your convenience. I may earn a small commission at no cost to you when you use one of these links. When you use these links, it helps support the mission of Raise The Good. Thank you! For more information, click here.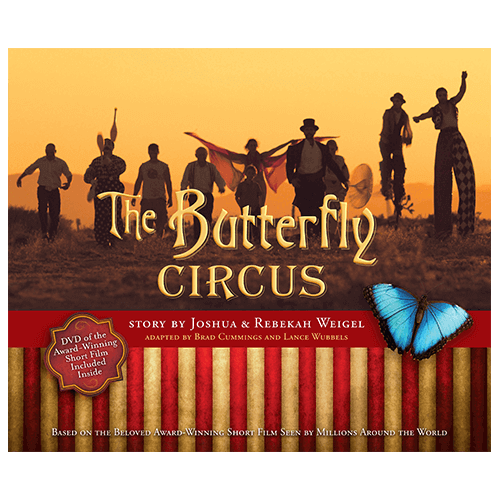 We all LOVED The Greatest Showman, didn't we? All that talent, the music, the emotion, the wonderful themes about individual worth that were woven throughout it . . . it was just fantastic. If you are wanting more, try this short film, The Butterfly Circus. It's very different from "Showman" (life feels more raw and there is no music), but it echos similar themes. Millions of people have fallen in love with this short video, and I'm sure that you will, too. It's worth the twenty minutes it takes to watch it- I promise.
This film is a Hollywood quality short film, has won dozens of awards, and on YouTube alone has garnered over 80 million views. I'm positive your family will love it as well. ( If you are interested in owning a copy of the film, you can find it here. )
And at the end of this post, I also have a bonus video that talks about finding hope in the darkest of places- please make sure you don't miss it!
Parent Information
Age recommendation: Very family friendly, though a bit heavy. Best at middle school age and up.
Character Topics: kindness, empathy, self-respect, individual worth, beauty from ashes
Areas of potential concern:
-A pregnant woman is shown in a long slip, there is a suggestive comment made by a man that indicates this woman is a prostitute. (This scene is not graphic, nor explicit.)
-A potential accidental drowning, but all ends well.
About Butterfly Circus
Butterfly Circus (YouTube link is below) is a realistic sample of what the circus might have been like in the Depression-era 1930's. It shares the same theme of belonging as The Greatest Showman, but with a slightly different twist. The main character of the show is played by Nick Vujicic, a limbless man who is a popular inspirational speaker you might recognize. In the show, Ringmaster Mendez finds Nick working in the "freak show" of a rival circus. Mendez recognizes the misery of Nick's circumstances and offers him a different job in his circus.
The twist comes as we realize that Mendez, the ringmaster, seeks out people for his acts who have no other place to belong: an alcoholic, a desperate prostitute, and an old man who has aged out of his former job. The ringmaster sees value in all these people, and he sees it in the bitter Will (Nick's character), as well. After listening to Will complain about his lot in life, Mendez tells him that he is luckier than all the other performers, because "the greater the struggle, the more glorious the triumph!"
With kindness and patience from the other performers, Will learns to embrace who he is, and to see the value of what he can add to the world. The title of the film reflects the journey that Nick, and all of us, go through as we recognize our own worth and transform from caterpillar to butterfly.
Learn More About Nick
Nick is remarkable. I truly hope that you will also watch this TedX talk by him, as he talks about finding hope during his difficult growing up years, overcoming his suicidal thoughts, and turning walls into doors. In a world filled with turmoil, it will still your heart, and help you find peace and hope. It is a powerful talk that I am sharing with my teenagers.
.