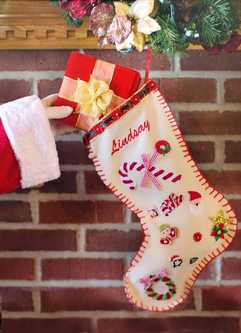 Stocking stuffers are a dilemma for a lot of us. We get our kids the regular gifts under the tree, but what to fill those stockings with?
Underwear and socks are certainly necessary, but not really exciting. A ton of candy is not ideal either. And since most of us are budget conscious, we don't want to spend a ton of money, since we already purchased the other gifts. Plus, would it be too much to ask if the stocking gifts didn't have to be homemade, but would still be memorable? And helpful and practical to boot? Something on the bigger size would be helpful, as well–some of those stockings are huge!
Enter The Best Stocking Stuffer Idea Ever: TOOLS!
Why We Use Tools as stocking stuffers
One of our jobs as parents is to prepare our kids for the real world. To teach them skills, and help them get ready to fly. Most parents I know take this job pretty seriously and often have their kids help them fix things around the house, learning as they go.
But I also remember my dad getting frustrated on numerous occasions about someone using his tools and not putting them back. And then kids go off to college with skills, but no tools, because they always used Dad's.
So.
One Christmas several years ago, we gave our children (above the age of 5 or so) a tool bag. It was on sale for $7, if I remember correctly and a bag takes up less space (and is lighter for little people) than a tool box. That year, and every year since then in their stocking, our kids get one tool: a screwdriver and bits, measuring tape, work gloves, pliers, wrenches, etc. Most tools are relatively cheap and they take up a lot of room if they are still in the packaging- fill that stocking up! We don't get them top of the line stuff because obviously, kids are kids. But we do get them decent tools that should do good, basic work for them. Our little kids feel they are super cool, having "real" tools, and our big kids have enough experience under their belts, that they appreciate having their own tools.
Here are a few ideas on how we do this:
We give our daughter tools too, and not just our boys!
We batched our kids together when we started doing this. That way it is easier to know who has what tools. I started the older ones all together and this year we are starting the younger kids all together.
Get each child a special mini roll of duct tape or electrical tape with a unique color or pattern on it, that we wrap around the handle of each tool- this way if one is left out, we know at a glance whose it is.
Every December we reward our kids for having all of their tools in their tool bag. If they do, they get $5 to put towards their Christmas expenses. We haven't had any lost tools yet!
Let the kids USE their tools and experiment. This is a great time for them to get to know themselves and what they like.
When the kids turn 16, they get a real toolbox, and when they turn 18, they get their own cordless drill. College, here they come! (We can easily repurpose the tool bags into emergency bags for our vehicles.)
Why we love this tradition
It really is a beautiful thing: my kids look forward to this tradition every year, there is no fighting over whose tools are whose, Dad's tools don't get lost, kids feel SUPER important getting our their own tools and using them- and they are more likely to show initiative and practice. All of this helps them become independent adults.
But best of all, at the end of their time in our home, they have a complete set of tools that they can use throughout their lives. When they pull out their tool bag to fix something, I hope they will remember the times they worked with their dad, and remember what a wonderful man he is and what he taught them.
Something that is useful, prompts memories and will last a lifetime without costing a fortune in time or money- now THAT is a great gift.
Merry Christmas from our family to yours!