This post has affiliate links in it for your convenience. I may earn a small commission at no cost to you when you use one of these links. When you use these links, it helps support the mission of Raise The Good. Thank you! For more information, click here.
I always recommend that families double check that movies are right for them before watching them. My favorite resources for this are www.kids-in-mind.com and commonsensemedia.org.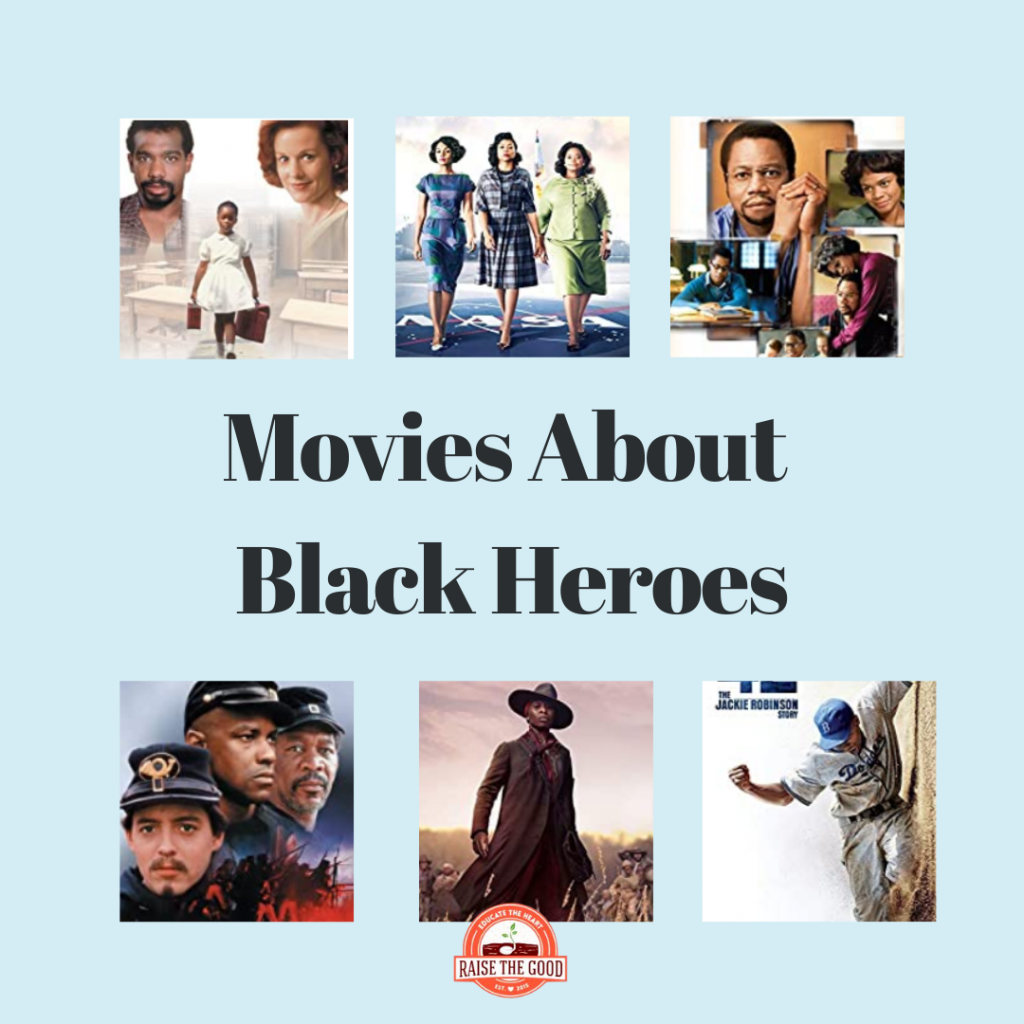 I strongly believe that our children need real heroes more than superheros. They will never be able to fly, fling webs, have laser eyes, etc., but they CAN change the world with the way that they live. By having courage, tenacity, discipline, and a host of other virtues, the people on this list have forever changed our world, and I am grateful for them. And this list of movies about Black heroes is fantastic.
When I started researching, I realized how many movies there are about the Black community that I haven't seen yet- so I'm sure there will be a Black heroes sequel to this list! Limited as it is, this movie list is about real life Black heroes who made really amazing contributions.
These shows have provided really great conversation starters in our home, as we learned about other people's experiences, racism, history, and looking back with 20/20 vision. Don't be afraid to stop the movie, ask questions, discuss, and then start it up again. This is a really great way to help kids learn! Stories help anchor historical facts in children's minds. These movies also help my kids see the human element behind historical events and news stories, and build awareness and empathy. Let your family movie nights be about more than just entertainment-let these heroes inspire you and help shape your family's awareness and behavior. This list is a great way to start.
This movie is remarkable. I saw it for the first time earlier this month with my 10 and 11-year-old boys, and I am a huge fan. I knew the general story of Ruby Bridges of course, but I never stopped to think of the courage it took for her family to allow her to be one of the first to begin the school integration process. It also highlights Ruby's mental health and how she forgave and prayed for the people protesting her attendance at the school. There are such beautiful lessons in this one. Highly recommended, though it is probably not best for sensitive kiddos (Ruby had was treated pretty horribly by the protestors.) After I watched this, I did a bit of research to learn more about Ruby's story, and I encourage you to do the same! You can find this on Amazon Prime and Disney Plus.
This movie is a favorite, and I am so glad these women who worked for NASA were highlighted. What amazing contributions they made! I am in awe of their minds and how they overcame both gender and racial barriers. I love this for so many reasons.
Chadwick Boseman is Jackie Robinson–and is fabulous, as always. The amount of courage and self-discipline Jackie had is just mind-blowing. There is a fair amount of derogatory language (people treated Jackie horribly), but this is definitely worth watching. Best for teens and up.
This is a hard movie to watch- it's best for mature teens or adults. Since the focus is death row and crime, the movie can be a bit gritty at times. Bryan Stevenson is a lawyer that works pro bono for people on death row. His compassion and dedication to the truth is really amazing. This movie highlights one particular case and his work in freeing an innocent man. However I really, really recommend the book. It has dozens of stories, gives such a different perspective and really made me examine my feelings about incarceration and the death penalty- something I honestly haven't given much thought to before now.
This is the story of young Harriet Tubman. There are fictional elements in it, but for the most part, it seems fairly accurate. (I encourage you to do more research about her life to separate fact from fiction.) She was a feisty woman who was incredibly brave in her quest for freedom. She then returned to the South multiple times to bring 70+ slaves to freedom, and also played a vital part in the Civil War.
I first saw this in high school and it changed my life. So, so good. It is originally rated R, but I was fortunate to find an educational copy that was edited for schools. (It is also available on ClearPlay and VidAngel.) The Massachusetts 54th regiment was the first Black all-volunteer regiment in the United States (though it did have white leaders). Their commitment to freedom, and the sacrifice they made, all while being treated so horribly has always stayed with me. (Plus, this was the first movie I watched with Denzel Washington in it. My 15-year-old self fell in love a little bit. Such a masterful actor!)
I love this show so much. It is the story of Ben Carson and his remarkable journey from a life of poverty, to becoming the premiere pediatric brain surgeon in the world. Ben's mother and her dedication to education is a personal inspiration to me and her influence on his life can not be emphasized enough.
This is a mini series that I saw in high school and I was so excited when I found it again! I was powerfully moved by this movie when I first saw it, and just finished showing it to my own children. (I can only find it on YouTube.) The show features Sidney Poitier as Thurgood Marshall and explains the story behind Brown v. The Board of Education. It is more educational, and less entertaining, but SO worth your while. The courage and tenacity of these men, women and children is astounding.
There you have it! I hope you enjoy these movies as much as I did, and are inspired and moved by these amazing men and women who overcame so much. These Black heroes push me to become more courageous, hardworking, disciplined, kind, forgiving, bold, and to do more hard things. I am grateful for their example. (You can find additional real hero movies here.)