It is so easy to get a bit distracted from the true meaning of Christmas. All the fun activities, movies, cookie making, preparations, gifts and "to do" lists are so fun (and meaningful in and of themselves)–but they really aren't what Christmas is about.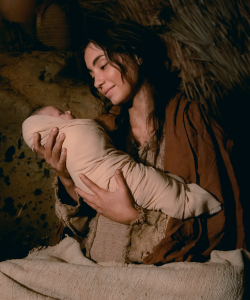 As a Christian, I want to focus my life on getting closer to, and emulating Jesus Christ. I celebrate His birth, His life of perfect example and service, His sacrificial and atoning death, and His resurrection. I want my children to not forget Him in the hustle and bustle of the season. We have been using these videos to help center us again and refocus on the true meaning of Christmas– I hope they help you, too.
Videos that Celebrate the True Meaning of Christmas
The Christ Child: A Nativity Story
This is about 18 min. long, and we watch it every Christmas Eve. I LOVE that the language spoken is authentic to the time, place and people. No English is spoken, and it feels so very sacred. I also adore the Wiseman and the emotion he portrays. Mary and Joseph are perfect. The entire thing is so well done.
The Shepherd
This is created by Dallas Jenkins, who also made The Chosen (see below), and is only 24 min. long. My favorite part of this movie is at the end, where the shepherd is asked by a temple priest if he has found a lamb, pure and without spot, for a sacrifice. (Earlier, his lamb was found with a wound.) After having seen an angel, and finding the Christ child, the shepherd answers "Yes." (Cue the tears!)
The Chosen
This is a TV mini series that was entirely crowd-funded and it is the most remarkable series about the life of Christ that I have ever seen. It focuses on the people around the adult Christ, and how He changes their lives. Everything is so real and relatable. This isn't your typical "church-y" movie about Christ- it's so different. People binge-watch this. It is AMAZING. Each episode is approximately one hour long.
There is a Chosen app, where you can watch it for free, watch the first episode on Youtube below, or you can also find it on the BYU channel (free) or VidAngel (with a subscription). *Warning: the first episode is a bit scary for kids- there is a woman with devils in her that is pretty intense.* Skip the first one if you need to–but be sure to watch all of the others!
Merry Christmas, friends. I hope you feel peace and joy this season, and always.