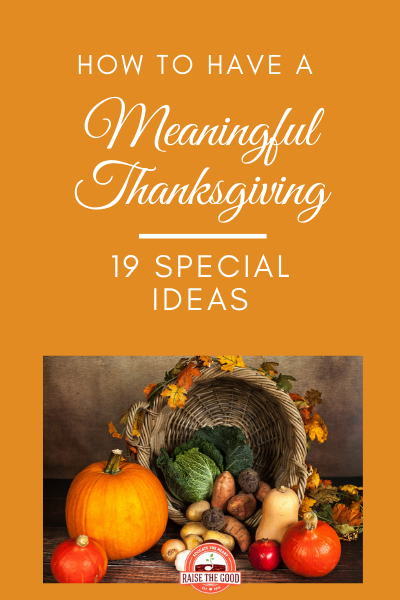 I LOVE Thanksgiving, and I want to make it meaningful and about more than just food and football.
To me, it is more than the commemoration of a meal that the Pilgrims and Native Americans shared together. It is an overarching principle that reminds us of everything that God has blessed us with. It is where universal brotherhood mingles with religion and patriotism. When you add in family, you've got everything in my life that is the meaningful to me.
In this article, I'm sharing 19 ideas I've gathered from my resources, as well as friends and readers to help make Thanksgiving more special. Some ideas are fun, and some are more serious. Hopefully, there will be something here that resonates with you.
Ideas for all November
Thanksgiving tree
This is a crowd favorite, and the suggestion came up many times from my readers. There are a variety of ways to do it, but the main idea is to get a "tree trunk" (made out of brown construction paper and then tape it to your wall, or get dead branches off an old tree and then pot it) and then make paper leaves to decorate it. On each leaf, you write something you are grateful for and then attach it to the tree. This is a fun activity the whole family can be involved in. My friend Heather and some other readers even put up their bare Christmas trees, so that their families can decorate it with gratitude leaves before the Christmas season!
Looking for the good
My friend Suzanne commented, "We have a big 'Grateful Gobble' turkey we put up in November, and everyone writes down things they are thankful for on cut out paper feathers. We try to get beyond the obvious answers like "family" or "our house" and think about why we might be grateful for unusual or hard things (i.e. Dad's unemployment because he's been home more, Mom's health problems because everyone's come together and been so helpful and we appreciate the good days more, silly things like eyebrows or clementines, etc.). It's great to see the kids being creative and really putting thought into what they are thankful for. One year we wrote down "good deeds" we noticed other family members doing throughout the month of November. . . . The feeling in our home really changes when we focus on the good things family members are doing, not bickering or things that annoy us.
Traditions for the Big Day
(Obviously, no one will do all of these. Just pick and choose the ones that your family will enjoy.)
Activities
Take a page from the Native Americans and invite someone you might not know very well, but who could use a hand up, to dinner.
Take a page from the Pilgrims and invite someone who might not be in your regular circle, but who has helped you and you are grateful for, over for a meal.
Fast the day before Thanksgiving, making the feast even more significant. Donate the money that would have gone towards your regular meals to a charity. Enjoy that Thanksgiving meal even more!
This is my hands-down favorite story of Thanksgiving, but few people know about it. The pdf I made of it is nothing fancy, but this true story gives me chills every time I think about it. We like to start our Thanksgiving with five kernels of corn on every plate because of it.
Read a Thanksgiving Proclamation or two: It has been a tradition for the President of the United States to write a proclamation of Thanksgiving. This was started by George Washington, and then reinstated and continued by Abraham Lincoln. Not coincidentally, theirs are some of the most inspiring. Jefferson Davis even wrote a few! If you want an interesting exercise, read our modern proclamations and compare them to ones from the past. I found all of them here. Personally, I found war time proclamations to be the most inspiring.   These proclamations are my favorite, so I turned them into pdfs so you can easily print them: George Washington's Thanksgiving Address; Abraham Lincoln's 1863 Thanksgiving Address
 Write your own family Thanksgiving Proclamation!
Make a record of your prayers that have been answered this year.
Richard and Linda Eyre started a tradition in their family of getting a roll of adding machine tape. They list the things they are grateful for and see how long they can make their list.
Discover who can come up with the most unusual thing to be grateful for. Read "The Hiding Place" by Corrie TenBoom, pg 209-210 and 220 for an example. (Hint: It has to do with fleas!)
Go around the table stating why you are grateful for each person there.
Name what you are thankful for and who is responsible for providing that blessing. For example: "I am grateful for a warm bed. Mom and Dad got that bed and all those warm blankets for me."
Special Thanksgiving Tablecloth: Reader Kelly shared, "We are a military family and move around a lot, so we have a Thanksgiving tablecloth that we use every year. We encourage our guests to write/draw on it when we have them over for Thanksgiving dinner. It's always fun to look back at the pictures and things that beloved friends have written down and to see my kids' hand prints drawn on there, too! (Kelly used Sharpie markers for this.)
Write thank you cards: Another reader, Amanda Hamilton Roos, shared that their family writes thank you cards to each other. She always writes one to her parents because, "sometimes we forget to thank the people closest to us."
Spend time just listening to and enjoying each other. This is a perfect time to tell family stories, play games, and let little ones snuggle in on laps.  The Pilgrims did not have tvs or phones–let's try to put away distractions and just enjoy each other!
Songs
Whether you like to gather around the piano and sing together, or would just like inspirational music in the background (like this album– gorgeous!), here are some beautiful traditional hymns that focus on gratitude. These songs can be found many places, but this is where I get them for sing along purposes.
My Country 'Tis of Thee
America the Beautiful
How Great Thou Art
Come, Ye Thankful People
For the Beauty of the Earth
All Creatures of Our God and King
Stories
Cuddle on the couch with kids and grandkids and read a few picture books together! Read Aloud Revivial has a huge list of excellent books.
And finally, please don't make the perfect the enemy of gratitude.
Maybe your life is not where you want it to be, and you are having a hard time finding something to be grateful for. Maybe you can't afford a turkey this year. Maybe you are lonely and don't have anyone to share the day with for a variety of reasons. All of these things can make the holidays extremely challenging.
The First Thanksgiving came after a long, terrible ordeal. Persecution, a long and dangerous journey, starting from nothing, starvation, illness, death–all of these things came BEFORE Thanksgiving. That's what made it so meaningful. If you are in the Pre-Thanksgiving phase of your life right now, please know that better days will come. Look for the Native Americans, the Squantos and Massasoit's in your life who are there with an open hand. Please accept them and the help and love they have to offer. And one day, Thanksgiving will come.
Whatever you choose to do this holiday, I hope it is filled with love. Please know that I am very grateful for you!