This post has affiliate links in it for your convenience. I may earn a small commission at no cost to you when you use one of these links. When you use these links, it helps support the mission of Raise The Good. Thank you! For more information, click here.
Recently, on a Facebook group I belong to, a mom asked about MODERN adventure series for her teenage son that are clean. It got me thinking, and I decided to do a round-up of our family's favorite clean adventure series that have been written for this generation.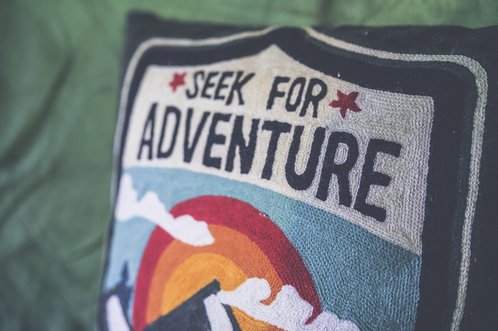 Here are some of our favorite adventure books, in no particular order. You'll notice that some of these authors have written several series, so be sure to check them all out! These also make great road trip audiobooks for the whole family.
As I was putting this list together, I noticed that strangely, most of these books feature orphans…weird.
The Ascendance Trilogy by Jennifer A. Nielsen: This series has you rooting for Sage, a clever orphan boy with a mischievous streak, but a good heart (though he tries to hide it). When he is kidnapped and forced to pretend that he is the long lost prince of his country, Sage decides to turn the tables on his captors.
Mark of the Thief series, also by Jennifer Nielson: Nic is a slave in Rome who is forced to risk his life in order to find an ancient amulet for a traitorous general. When the amulet bonds with him at first touch, Nic has access to magical powers- but the general is willing to do anything to get it back. Traitors, spies and magical griffins all take center stage in this story about a boy who wants to save his country.
Fablehaven series by Brandon Mull: Two siblings, Kendra and Seth,  visit their grandparents who manage a nature preserve while their parents are away on a trip. But this preserve is a little…different. It houses magical creatures that are no longer found in our world: trolls, fairies, satyrs, centaurs, demons, etc. Seth struggles to understand the importance of obeying rules, and how they keep him safe. When he breaks one, the consequences are enormous. It is up to he and Kendra to save their grandparents and put Fablehaven back to rights. This adventure series is a favorite for everyone!
Beyonders series by Brandon Mull: Okay, so the beginning of this story really had me wondering- a modern day boy named Jason is SWALLOWED by a hippo at the zoo and thereby enters a magical land. Uh huh, weird. (But I guess it really happened (the swallowing part- not the magical part) to someone according to this article!) Anyway, he enters "a land without heroes", where everyone is scared of the evil, magical king. No one will stand up, no one will stick their neck out. As Jason tries to return home, he realizes that he and his friends must stand up to this evil. This fun adventure series includes people who can take off body parts, riddles and a blind man who is a remarkable sword fighter.
The Five Kingdoms series by Brandon Mull: Cole's friends are kidnapped and he is the only one who knows where they went. As he follows them, he is transported to a magical world–and promptly captured. As Cole tries to keep his promise to free his friends, he learns about magic in this new land and how it has started unraveling. The only way to get home by helping royal princesses regain their stolen magic. (Sensitive child alert: The kidnapping scene gets pretty scary, but the rest of the book evens out.)
The Inheritance Series, by Christopher Paolini: When Eragon finds a strange stone, he takes it home, hoping it will be valuable enough to barter for some food. The next day the stone cracks (it was an egg) and a dragon is born. Eragon and the dragon bond, making Eragon the first dragon rider in centuries. When the evil king learns of this potential threat to his power, he does all he can to capture Eragon. My kids have literally worn this book out- we need another!
Adventurers Wanted by M. L. Foreman: Alex walks by a shop one day, when he sees a sign that says, "Adventurers Wanted". Feeling like his life is boring, he goes inside to learn more. This begins his travels as he fights evil and becomes a master wizard. I wrote a full review of this book here. I love this series SO MUCH!
Alcatraz vs. the Evil Librarians by Brandon Sanderson: I'll tell you right now that this is kooky. Straight up, plain, kooky. It's about an orphan boy who breaks things. Everything, just by touching them: doorknobs, phones, ovens, even a chicken…??? All is explained when a crazy man shows up on the doorstep of his foster parents' home and claims that he is Alcatraz's grandfather. Alcatraz, it seems has the most rare, most valuable talent of all. (Can you guess?) It's breaking things. The Resistance needs Alcatraz to help them take down the dystopian government that he has unknowingly been living under. It seems that Librarians are evil people who control information. Did you know that dinosaurs never went extinct, that there are two extra continents they have hidden from us, and much, much more? You will either love or hate this eccentric, upside down series.
9. The Books of Bayern (The Goose Girl)
Ani is a princess sent off to a different kingdom in order to marry a prince she has never met. Along the way, her maid forces her to trade positions and Ani is forced to become the Prince's goose girl instead of his bride. However, with her newly discovered magic and a new friend, she finds a way to expose her maid. The series goes on exploring the magic her friends also discover.
10. The Mysterious Benedict Society
Gifted children go undercover at school in an effort to save the world. Full of mysteries, puzzles and lots of thinking outside the box.